ASX Top 200 Stocks Down Under 28 September 2020: Atlas Arteria Limited, IDP Education Limited, Ausnet Services Limited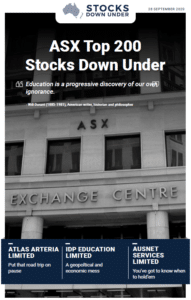 Atlas Arteria Limited: Put that road trip on pause
Atlas Arteria owns, operates and develops toll roads around the world. While the company is headquartered in Melbourne, its current portfolio consists of four toll roads in France, Germany and the United States. Unlike its more famous peer Transurban (ASX:TCL), Atlas Arteria does not own any toll roads in Australia and, therefore, has a higher level of COVID-19 exposure. Toll road developers and operators' value is highly dependent on their dividend payouts, which come from operating cash flow. Due to the nature of COVID-19, we are not comfortable with the risk to Atlas' dividend at the moment.
Also in today's edition, a look at international education placement service IDP Education and electricity and gas utility AusNet Services Limited.
Get access to all editions through a 2-week FREE TRIAL. No charge on sign up.