Small Cap Stocks Down Under 6 November 2020: Australian Finance Group, Fiducian Group, Shriro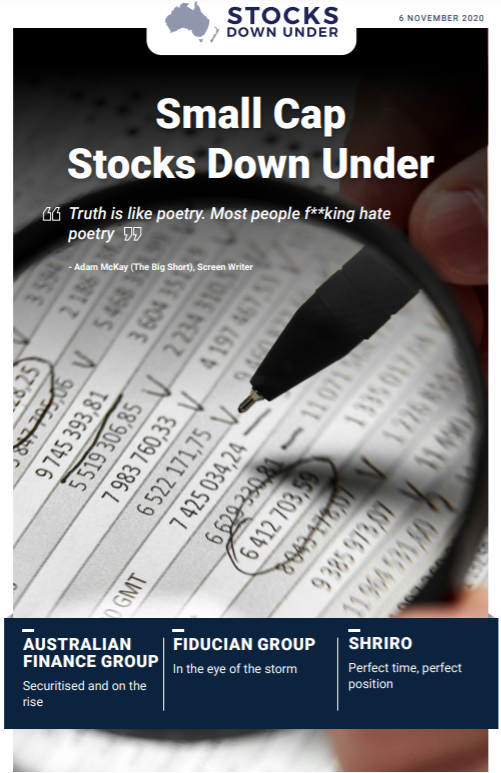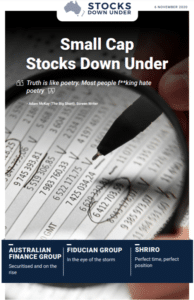 Small Cap Stocks Down Under Edition #7
Australian Finance Group: Securitised and on the rise
In today's edition of Small Cap Stocks Down Under, headquartered in Perth, the Australian Finance Group encompasses 2,975 mortgage brokers nationwide per the end of June, allowing it to take full advantage of the low-interest rate mortgage boom. The company is a rather interesting case of an organisation getting its feet back under it following a continuous decline in net profit starting in FY18 due in no small part to the restructuring of its commissions scheme. Australian Finance seems the be on the rise and the way the Australian mortgage market is shaping up we are cautiously optimistic.
Also in today's edition, a look at fund manager the Fiducian Group (ASX: FID) and appliance retailer Shriro (ASX: SHM).
Get access to all editions through a 2-week FREE TRIAL. No charge on sign up.
Click here to read the previous edition of Small Cap Stocks Down Under published 30 October 2020
For in-depth research reports or to keep up-to-date on the latest Stocks Down Under news see our parent company, Pitt Street Research, or follow us on Facebook and Twitter