Small Cap Stocks Down Under 26 March 2021: Booktopia, Pacific Current Group, Rent.com.au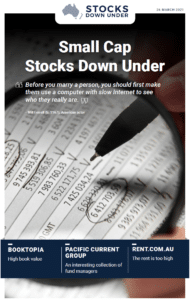 Booktopia: High book value
In today's edition of Small Cap Stocks Down Under, Headquartered at Lidcombe in western Sydney, Booktopia Group is like Amazon was in the early days. Since its establishment in 2004 as a side hustle on a budget of $10 a day, Booktopia is now worth in excess of $330m. And no wonder. Low shipping fees and fulfilment times that outdo Amazon et al., not to mention an increasingly growing inventory that surpasses any brick and mortar store, are allowing Booktopia to outperform all expectations.
Also in today's edition, a look at fund manger investor Pacific Current Group (ASX: PAC) and renting solutions developer Rent.com.au (ASX: RNT).
Click here to read the previous edition of Small Cap Stocks Down Under published 19 March 2021
For in-depth research reports or to keep up-to-date on the latest Stocks Down Under news see our parent company, Pitt Street Research, or follow us on Facebook and Twitter.