Emerging Stocks Down Under 27 April 2021: COG Financial Services, Ansarada Group, 99 Technology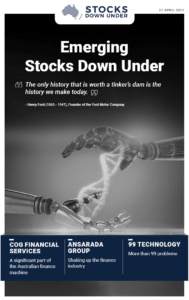 COG Financial Services: A significant part of the Australian finance machine
In today's edition of Emerging Stocks Down Under, are you an independent asset finance broker or a Small to Medium-sized Enterprise looking to finance some additional equipment? COG Financial Services has the services for you. Headquartered in Sydney, COG is a small, but growing organisation specialising in asset finance broking and lending through three separate entities. With only 17% of Australia's market share, is this company ready to become a much bigger cog in the great Australian finance machine?
Also in today's edition, a look at merger and acquisition software developer Ansarada Group (ASX: AND) and Chinese online and mobile services developer 99 Technology (ASX: NNT).
Click here to read the previous edition of Emerging Stocks Down Under published 20 April 2021
For in-depth research reports or to keep up-to-date on the latest Stocks Down Under news see our parent company, Pitt Street Research, or follow us on Facebook and Twitter.