Small Cap Stocks Down Under 3 December 2021: Doctor Care Anywhere Group, Toys 'R' US ANZ, LaserBond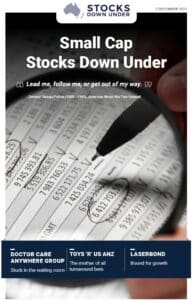 Doctor Care Anywhere Group: Stuck in the waiting room
In today's edition of Small Cap Stocks Down Under, headquartered in the United Kingdom, regular readers of Stocks Down Under are likely to be familiar with the Doctor Care Anywhere Group. We interviewed the CEO, Dr Bayju Thakar on 30 July 2021. This telemedicine platform has been a lifesaver for many during the pandemic, both in its home country of the United Kingdom and around the world. The market has been less than kind to shareholders since the company listed on 4 December 2020 and we think this means the market needs a check-up of its own.
Also in today's edition, a look at retailer Toys 'R' US ANZ (ASX: TOY) and manufacturing technology developer LaserBond (ASX: LBL).
Click here to read the previous edition of Small Cap Stocks Down Under published 26 November 2021
For in-depth research reports or to keep up-to-date on the latest Stocks Down Under news see our parent company, Pitt Street Research, or follow us on Facebook and Twitter.