ASX Top 200 Stocks Down Under 2 August 2021: Domain Holdings, Nufam, Costa Group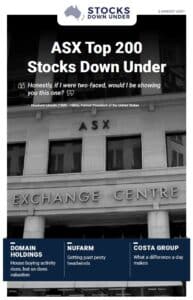 Domain Holdings: House buying activity rises, but so does valuation
In today's edition of ASX Top 200 Stocks Down Under, when we last wrote about Sydney-based Domain Holdings on 11 February 2020, Australia's residential property market was healthy and the share was trading near a record high. Then COVID-19 hit and within weeks Domain was at an all-time low. The real estate technology and services company has since rallied above $5.00 for the first time. We expect home buying to stay strong as the economic recovery progresses, but Domain's valuation is now through the roof.
Also in today's edition, a look at developer and manufacturer of seeds and crop protection solutions Nufarm (ASX: NUF) and fruit and vegetable producer the Costa Group (ASX: CGC).
Click here to read the previous edition of ASX Top 200 Stocks Down Under published 26 July 2021
For in-depth research reports or to keep up-to-date on the latest Stocks Down Under news see our parent company, Pitt Street Research, or follow us on Facebook and Twitter.