Stocks Down Under 25 August 2020: Eagers Automotive, American Pacific Borates, Linius Technologies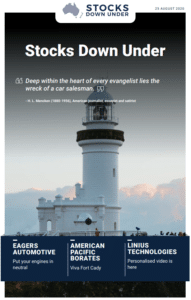 Eagers Automotive: Put your engines in neutral
Eagers Automotive is an automotive retail group with dealerships across Australia and a small presence in New Zealand. The company is headquartered in Newstead, Queensland, a suburb in the heart of Brisbane. Despite COVID-19, management has confirmed that their merger with Automotive Holdings Group has been completed without any complications. With 1HY20 earnings being released on 26 August 2020, we expect the company to outperform its peers due to large costcutting earlier in the year. However, we believe this has already been factored into the price and we don't see any significant potential to the upside.
Also in today's edition, miner American Pacific Borates (ASX:ABR) and emerging technology company Linius Technologies (ASX:LNU).
Get access to all editions through a 2-week FREE TRIAL. No charge on sign up.