Resources Stocks Down Under 6 January 2022: Elementos, Alto Metals, Metalstech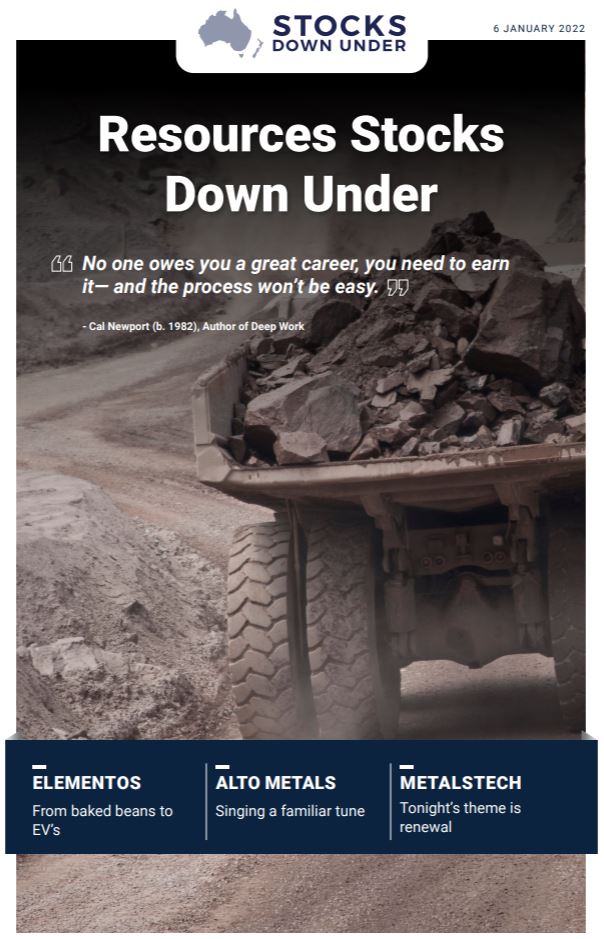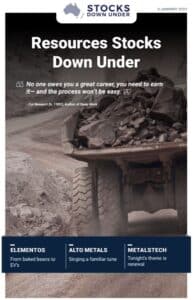 Elementos: From baked beans to EV's
In today's edition of Resources Stocks Down Under, Elementos is on Stocks Down Under's radar as a way to make a buck off rising tin prices. With spot tin holding close to the US$40,000 level, Elementos has high hopes for two big projects with a long history of Element No. 50. The first of these projects is Oropesa in southern Spain. It was acquired in 2019 and is currently in its Definitive Feasibility Study stage. Elementos' second project is called the Cleveland Tin Project and is a little closer to home, located in Down Under's down under, northwestern Tasmania.
Also in today's edition, a look at gold miner Alto Metals (ASX: AME) and gold miner Metalstech (ASX: MTC).
Click here to read the previous edition of Resources Stocks Down Under published 23 December 2021
For in-depth research reports or to keep up-to-date on the latest Stocks Down Under news see our parent company, Pitt Street Research, or follow us on Facebook and Twitter.