Emerging Stocks Down Under 21 September 2021: CV Check, Compumedics, Botanix Pharmaceuticals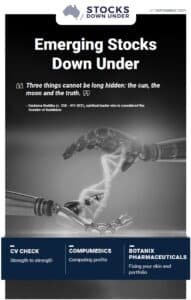 CV Check: Strength to strength
In today's edition of Emerging Stocks Down Under, based in Perth, CV Check provides support services to companies in the staff hiring process. The company uses its online platform to offer verification checks ranging from credit and financial checks to qualification and police checks. The service can be used by individuals, small businesses and enterprises. However, we doubt whether there is enough demand for its core product for this to become profitable on its own. Thankfully, the company is expanding its portfolio through synergistic acquisitions.
Also in today's edition, a look at medical device developer Compumedics (ASX: CMP) and drug developer Botanix Pharmaceuticals (ASX: BOT).
Click here to read the previous edition of Emerging Stocks Down Under published 14 September 2021
For in-depth research reports or to keep up-to-date on the latest Stocks Down Under news see our parent company, Pitt Street Research, or follow us on Facebook and Twitter.