Emerging Stocks Down Under 22 March 2022: Ecofibre (ASX:EOF)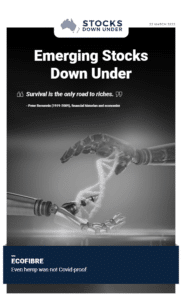 Ecofibre: Even hemp was not Covid-proof
It seems any time a new industry emerges in the Western world, it has to go through several boom-and-bust cycles before the real winners emerge, and it appears to be the case with cannabis and hemp. The bust is far from over but there are some great bargains in this space on the ASX and other exchanges. With well-regarded products in the market and a pipeline of clinical data coming soon, Ecofibre could be worth another look.
Click here to read the previous edition of Emerging Stocks Down Under published 15 March 2022
For in-depth research reports or to keep up-to-date on the latest Stocks Down Under news see our parent company, Pitt Street Research, or follow us on Facebook and Twitter.