Emerging Stocks Down Under 9 August 2022: Imugene (ASX:IMU)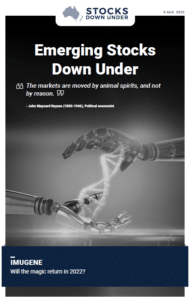 Imugene: Will the magic return in 2022?
Imugene (ASX: IMU) is arguably one of the best examples of how crazy the bull market of 2020-21 was. It nearly reached $3bn in market capitalisation despite its assets only being at the clinical trial stage. But it has a few things in its favour that many other Biotechs do not. One is that it is chaired by industry veteran Paul Hopper, who sold Viralytics to Merck for $502m back in 2018. And another is positive clinical trial results back in June that led to this company's latest rally.
Click here to read the previous edition of Emerging Stocks Down Under published 1 August 2022.
For in-depth research reports or to keep up-to-date on the latest Stocks Down Under news see our parent company, Pitt Street Research, or follow us on Facebook and Twitter.