ASX Top 200 Stocks Down Under 4 October 2021: Harvey Norman, Fletcher Building, AUB Group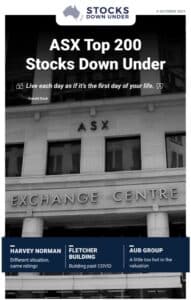 Harvey Norman: Different situation, same rating
In today's edition of ASX Top 200 Stocks Down Under, we last covered Sydney-based on 9 June 2020, rating the company two stars based on a combination of Australian growth concerns, COVID-19 and what we considered to be an inflated valuation. Unfortunately, we seem to have called the bottom of the stock as it went up in an almost straight line until early 2021, driven by
COVID-induced online spending. Let's take a dive into this franchise-based general retailer and see where we went wrong and where this company is likely moving in the future.
Also in today's edition, a look at Australian and New Zealand builder and supplies provider Fletcher Building (ASX: FBU) and insurance company the AUB Group (ASX: AUB).
We last wrote about the Harvey Norman, Fletcher Building, and AUB Group on 9 June 2020, 18 June 2020, and 13 March 2020, respectively.
Click here to read the previous edition of ASX Top 200 Stocks Down Under published 27 September 2021
For in-depth research reports or to keep up-to-date on the latest Stocks Down Under news see our parent company, Pitt Street Research, or follow us on Facebook and Twitter.