Stocks Down Under 18 September 2020: Iluka Resources, Duxton Water, MoneyMe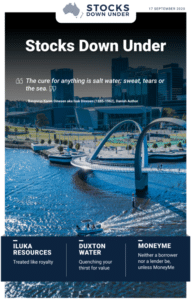 Iluka Resources: Treated like royalty
Iluka is focused on moving its global network of mineral sand operations forward during this Pandemic. The stock is moving forward as well. From a low of $4.30 in March, Iluka's shares were back to $7 by August and are now close to $10. While demand for its mineral resources remains flat, it will come back in the medium term, but in the meantime, there is strong interest in the company's planned demerger of its iron ore royalty business.
Also in today's edition, a look at water entitlement investment vehicle Duxton Water and personal lending group MoneyMe.
Get access to all editions through a 2-week FREE TRIAL. No charge on sign up.