Emerging Stocks Down Under 4 May 2021: Immutep, ReadCloud, ECS Botanics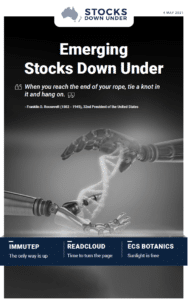 Immutep: The only way is up
In today's edition of Emerging Stocks Down Under, Immutep has been involved in the emerging field of cancer immunotherapy for many years. You may remember it under its old name of Prima. However, when it was still called Prima Biomed, it acquired the French biotech Immutep SA in 2014. From that moment the company really got a head of steam behind it. Seven years later the clinical data from Immutep's programmes is looking very interesting.
Also in today's edition, a look at e-reader ReadCloud (ASX: RCL) and hemp and cannabis producer ECS Botanics (ASX: ECS).
Click here to read the previous edition of Emerging Stocks Down Under published 27 April 2021
For in-depth research reports or to keep up-to-date on the latest Stocks Down Under news see our parent company, Pitt Street Research, or follow us on Facebook and Twitter.