Stocks Down Under 10 August 2020: Invocare, WestGold, Tower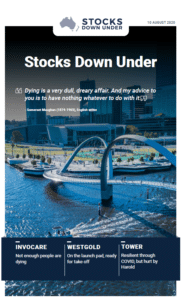 Invocare: Not enough people are dying
The times haven't been auspicious for Invocare, Australia's leading operator of funeral homes, cemeteries and crematoria. Back in July 2019 this stock went as high at $16.67, but in the recent Corona Crash it fell to $9.83 and has now gone below that level. One would think that funeral services is one of the more dependable industries to be involved in right now, but it might be that not enough people are dying in 2020.
Also in today's edition, gold play WestGold Resources (ASX:WGX) and insurer Tower (ASX:TWR).
Get access to all editions of Stocks Down Under with a 2-week FREE TRIAL. No charge on sign up.