Emerging Stocks Down Under 13 April 2021: Janison Education Group, MedAdvisor, DigitalX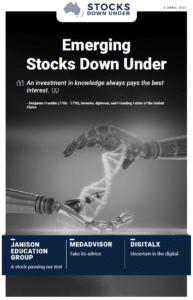 Janison Education Group: A stock passing our test
In today's edition of Emerging Stocks Down Under, COVID-19 lockdowns seemed to be perfectly catered to the Janison Education Group's business model. This Sydney-based technology company develops online assessment and learning platforms. Unsurprisingly, demand spiked during 1HY21 as student learning moved online. In fact, between July and 12 April 2021 the stock has jumped 134%. However, with Australia's students back in the classroom, is it safe to withdraw from this class?
Also in today's edition, a look at pharmaceutical application MedAdvisor (ASX: MDR) and blockchain and cryptocurrency manger DigitalX (ASX: DCC).
Click here to read the previous edition of Emerging Stocks Down Under published 6 April 2021
For in-depth research reports or to keep up-to-date on the latest Stocks Down Under news see our parent company, Pitt Street Research, or follow us on Facebook and Twitter.