ASX Top 200 Stocks Down Under 16 November 2020: Lynas, Bapcor, Waypoint REIT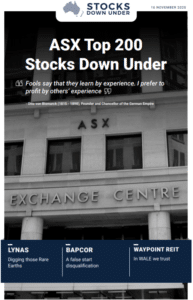 Lynas: Digging those Rare Earths
In today's edition of ASX Top 200 Stocks Down Under, in this article we'd like to introduce you to a major industrial company that is really important to the modern economy, has very few competitors and loyal customers all over the world. And no, we don't mean Apple. We mean the Sydney-based Lynas Corp, which is the world's second largest producer of Rare Earths. With Electric Vehicles and wind turbines, among other 21st century products, requiring a heck of a lot of Rare Earths, we predict a great future for Lynas.
Also in today's edition, a look at aftermarket vehicle parts retailer Bapcor (ASX: BAP) and service station REIT Waypoint REIT (ASX: WPR).
Get access to all editions through a 2-week FREE TRIAL. No charge on sign up.
Click here to read the previous edition of ASX Top 200 Stocks Down Under published 9 November 2020
For in-depth research reports or to keep up-to-date on the latest Stocks Down Under news see our parent company, Pitt Street Research, or follow us on Facebook and Twitter