Small Cap Stocks Down Under 10 September 2021: MA Financial Group, Energy World, Maxitrans Industries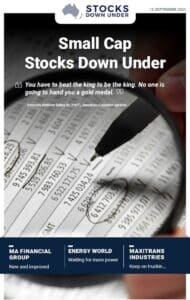 MA Financial Group: New and improved
In today's edition of Small Cap Stocks Down Under, headquartered in Sydney, MA Financial Group, formerly Moelis Australia (see 26 April 2020 report) changed its name on 4 June 2021 in order to better reflect its growth from a primarily corporate advisory and stockbroker to a full-fledged asset manager. Clearly, this change has been a good thing as underlying revenue and EBITDA growth saw strong growth during the first half of 2021, signalling that MA Financial Group is on the rise.
Also in today's edition, a look at diversified energy producer Energy World (ASX: EWC) and semi-trailer equipment supplier Maxitrans Industries (ASX: MXI).
We last wrote about the MA Financial Group (previously Moelis Australia) on 26 April 2020.
Click here to read the previous edition of Small Cap Stocks Down Under published 27 August 2021
For in-depth research reports or to keep up-to-date on the latest Stocks Down Under news see our parent company, Pitt Street Research, or follow us on Facebook and Twitter.