Resources Stocks Down Under 13 May 2021: Medusa Mining, Iron Road, Bowen Coking Coal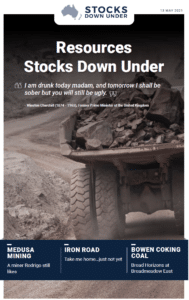 Medusa Mining: A miner Rodrigo still likes
In today's edition of Resources Cap Stocks Down Under, the second half of 2020 saw a de-rating for Perth-based Medusa Mining, owner of a producing gold mine in the Philippines called Co-O. On 3 August, you could buy the stock for 88.5 cents. By 25 November, Medusa was down to 70.5 cents. Since November, however, things have been looking up. We predict good times ahead for Co-O and for Medusa.
Also in today's edition, a look at iron ore miner Iron Road (ASX: IRD) and coal miner and coke coal producer Bowen Coking Coal (ASX: BCB).
Click here to read the previous edition of Resources Stocks Down Under published 6 May 2021
For in-depth research reports or to keep up-to-date on the latest Stocks Down Under news see our parent company, Pitt Street Research, or follow us on Facebook and Twitter.