Stocks Down Under 30 July 2020: Mesoblast, Carbon Revolution, Beacon Lighting Group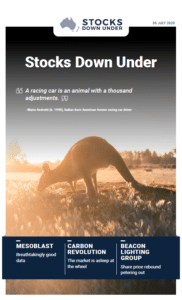 Mesoblast: Breathtakingly good data
When the Corona Crash happened back in March the biotechnology sector on the ASX was sold off heavily. A typical example of the declines was Mesoblast, which by 19 March 2020 was down 64% from the $3.07 level registered on 23 January. However, just over a month after the crash, Mesoblast was able to recover all the ground that had been lost and it continues to show form today. The catalyst has been clinical data on the utility of Mesoblast's stem cells in treating Covid-19 infection. However, we believe there's plenty of good news coming for Mesoblast beyond Covid-19 with the potential to propel the stock much higher.
Also in this edition, light-weight wheels from Carbon Fibre and a look at Beacon Lighting Group.
Don't miss out and get a FREE TRIAL to test us out. No charge on sign up!