Resources Stocks Down Under 10 December 2020: Orion Minerals, Australis Oil and Gas, Magnetite Mines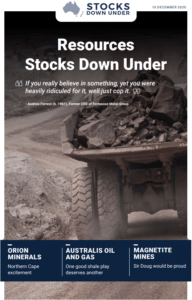 Orion Minerals: Northern Cape excitement
In today's edition of Resources Stocks Down Under, things are looking up for the Melbourne-based Orion Minerals. Not only is the company's flagship Prieska Copper-Zinc Project in South Africa the subject of a favourable Bankable Feasibility Study, but as of August 2020 the project is fully permitted. Importantly, the prices of copper and zinc have been running hard since late March. At the moment, however, you can get Orion Minerals for only a fraction of the NPV suggested by the Prieska BFS. There's four stars in this one for the patient investors out there.
Also in today's edition, a look at US oil and gas explorer Australis Oil and Gas (ASX: ATS) and iron ore miner Magnetite Mines (ASX: MGT).
Get access to all editions through a 30-day FREE TRIAL. No credit card required and the trial expires automatically.
Click here to read the previous edition of Resources Stocks Down Under published 3 December 2020
For in-depth research reports or to keep up-to-date on the latest Stocks Down Under news see our parent company, Pitt Street Research, or follow us on Facebook and Twitter