Resources Stocks Down Under 30 September 2021: Podium Minerals, Tesoro Resources, Thomson Resources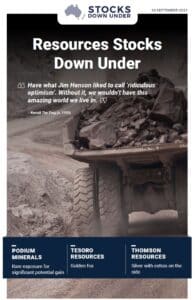 Podium Minerals: Rare exposure for significant potential gain
In today's edition of Resources Stocks Down Under, as one of the few Precious Group Metal (PGM) explorers in Australia, Podium Metals is banking on the meteoric rise of PGM prices combined with dwindling supply to dig up support for its flagship Parks Reef Project near Mt. Weld in Western Australia. The company has had a successful 12 months as it improved its inferred mineral resource and uncovered some high-grade palladium, platinum and rhodium. Despite these successes, Podium is adamant the best is yet to come with further exploration planned to define the full value of the project.
Also in today's edition, a look at gold miner Tesoro Resources (ASX: TSO) and silver miner Thomson Resources (ASX: TMZ).
Click here to read the previous edition of Resources Stocks Down Under published 23 September 2021
For in-depth research reports or to keep up-to-date on the latest Stocks Down Under news see our parent company, Pitt Street Research, or follow us on Facebook and Twitter.