Emerging Stocks Down Under 17 November 2020: Pointerra, Zebit, Emerge Gaming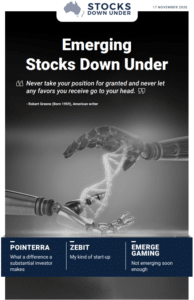 Pointerra: What a difference a substantial investor makes
In today's edition of Emerging Stocks Down Under, 14 July 2020 is the day the world changed for Perth-based Pointerra, in a good way that is. You see, 14 July is the day the company announced that internet entrepreneur Bevin Slattery bought 50m shares in Pointerra at 5 cents per share, bringing in $2.5m in fresh capital. But much more than the $2.5m in additional cash, the market appreciated that someone like Slattery thought Pointerra was worth investing in, something that we've been convinced of since 2016. Following the news, the shares jumped on market open and have basically never looked back. They peaked around 67 cents late September and are now trading in the high 40s. But is Pointerra worth more than $300m right now?
Also in today's edition, a look at E-Commerce and Buy Now Pay Later start-up Zebit (ASX: ZBT) and eSports tournament platform developer Emerge Gaming (ASX: EM1).
Get access to all editions through a 2-week FREE TRIAL. No charge on sign up.
Click here to read the previous edition of Emerging Stocks Down Under published 10 November 2020
For in-depth research reports or to keep up-to-date on the latest Stocks Down Under news see our parent company, Pitt Street Research, or follow us on Facebook and Twitter