Property Stocks Down Under 17 August 2022: Carindale Property Trust (ASX:CDP)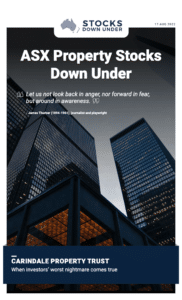 Carindale Property Trust: When investors' worst nightmare comes true
There aren't many pure-play shopping centre REITs, but they have been popular as re-opening plays. Vicinity Centres (ASX: VCX) is one example and it has jumped from $1.83 to $2.10 since we covered it in February. Carindale Property Trust (ASX: CDP) is a pure-play shopping centre REIT, but unlike Vicinity is located in Brisbane, so it wasn't hit by the pandemic as badly. However, its share price has lagged in recent years. Why is that?
Click here to read the previous edition of Property Stocks Down Under published 10 August 2022.
For in-depth research reports or to keep up-to-date on the latest Stocks Down Under news see our parent company, Pitt Street Research, or follow us on Facebook and Twitter.