Small Cap Stocks Down Under 13 November 2020: PWR Holdings, Vmoto, Lark Distilling Company, Lifestyle Communities Update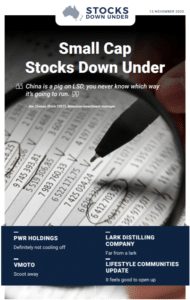 PWR Holdings: Definitely not cooling off
In today's edition of Small Cap Stocks Down Under, headquartered in Ormeau on the Gold Coast of Queensland, PWR Holdings is an emerging developer and manufacturer of advanced cooling technology. If we had written this article before the company's FY20 report came out we would have called them a high-performance automotive cooling company. However, everything changed last year after the company expanded its development operations into aerospace, electronics and energy storage, and aluminium heat exchangers. All of these initiatives are focused around the company's base cooling technology. We don't see this company cooling its jets anytime soon.
Also in today's edition, a look at electric scooter company Vmoto (ASX: VMT), whisky distiller the Lark Distilling Company (ASX: LRK), and an update on 50+ community builder Lifestyle Communities (ASX: LIC).
Get access to all editions through a 2-week FREE TRIAL. No charge on sign up.
Click here to read the previous edition of Small Cap Stocks Down Under published 6 November 2020
For in-depth research reports or to keep up-to-date on the latest Stocks Down Under news see our parent company, Pitt Street Research, or follow us on Facebook and Twitter