ASX Top 200 Stocks Down Under 12 July 2021: QBE Insurance Group, Sealink Travel Group, Bega Cheese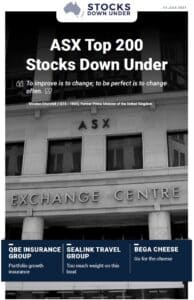 QBE Insurance Group: Portfolio growth insurance
In today's edition of ASX Top 200 Stocks Down Under, Insurance has gotten a bad wrap during COVID-19 as headlines have been plastered with reports of financial hardships in the insurance industry. However, there are always diamonds in the rough and we believe Sydney-based QBE Insurance Group is one the market has overlooked. While QBE had a large negative result in 2020, we believe there was some positive news too that has set up the company for a strong comeback in the next few years.
Also in today's edition, a look at Australia's largest land and marine transport service provider the Sealink Travel Group (ASX: SLK) and agricultural products conglomerate Bega Cheese (ASX: BGA).
Click here to read the previous edition of ASX Top 200 Stocks Down Under published 5 July 2021
For in-depth research reports or to keep up-to-date on the latest Stocks Down Under news see our parent company, Pitt Street Research, or follow us on Facebook and Twitter.