Resources Stocks Down Under 26 August 2021: Red Hill Iron, Odyssey Gold, Encounter Resources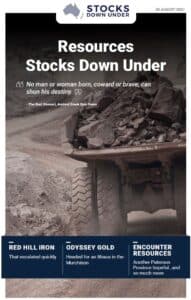 Red Hill Iron: That escalated quickly
In today's edition of Resources Stocks Down Under, it was the transaction no one saw coming: On Friday 30 July Mineral Resources (ASX: MIN) announced that it was buying 40% of an iron ore joint venture that covered 820 million tonnes of the stuff. The price was a massive $400m…in cash. The vendor, the little-known Red Hill Iron, had been capitalised on ASX just prior to the deal at a mere $66m. Now you know why Red Hill Iron stock leaped on Monday 2 August from $1.10 to $4.06. However, even at the 11 August peak of $4.39 the Red Hill Iron market cap was only $263m. We think it will be a while before the market values the other $137m.
Also in today's edition, a look at gold miner Odyssey Gold (ASX: ODY) and copper miner Encounter Resources (ASX: ENR).
Click here to read the previous edition of Resources Stocks Down Under published 19 May 2021
For in-depth research reports or to keep up-to-date on the latest Stocks Down Under news see our parent company, Pitt Street Research, or follow us on Facebook and Twitter.