ASX Top 200 Stocks Down Under 29 November 2021: ResMed, Perseus Mining, PushPay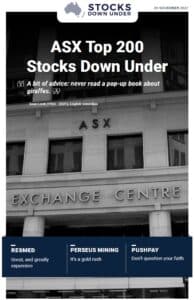 ResMed: Great, and greatly expensive
In today's edition of ASX Top 200 Stocks Down Under, ResMed is a US company now based out of California but it was born and raised in Sydney in the 1980s. A legend of modern healthcare, ResMed mixes medical devices and cloud computing to provide mostly in-home care to people suffering from sleep apnea, Chronic Obstructive Pulmonary Disease (COPD), and other respiratory disorders. The last time we covered the company in May 2020, our main issue was not the business model. Instead, our issue was that the stock was too expensive. This issue remains and it has only gotten worse.
Also in today's edition, a look at gold miner Perseus Mining (ASX: PRU) and payment processor PushPay (ASX: PPH).
We last wrote about the ResMed, Perseus Mining, and PushPay on 8 May 2020, 7 May 2020, and 12 May 2020, respectively.
Click here to read the previous edition of ASX Top 200 Stocks Down Under published 21 November 2021
For in-depth research reports or to keep up-to-date on the latest Stocks Down Under news see our parent company, Pitt Street Research, or follow us on Facebook and Twitter.