Resources Stocks Down Under 21 July 2022: Regis Resources (ASX:RRL)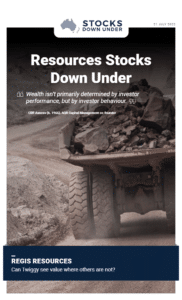 Regis Resources: Can Twiggy see value where others are not?
Despite the success of the broader resources sector, relative to the rest of the market, gold producers haven't fared as well as their counterparts in base and battery metals. Indeed, Regis Resources (ASX: RRL) is down 20% this year and it has more than halved in five years. But shares have rebounded in July after Andrew
'Twiggy' Forrest made a bid to increase his stake in the company. His bid, while ultimately failing, begs the following question: Can he see value in Regis that other investors are not?
Click here to read the previous edition of Resources Stocks Down Under published 14 July 2022
For in-depth research reports or to keep up-to-date on the latest Stocks Down Under news see our parent company, Pitt Street Research, or follow us on Facebook and Twitter.