Resources Stocks Down Under 24 March 2022: Australian Vanadium (ASX:AVL)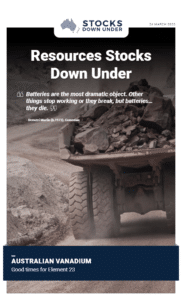 Australian Vanadium: Good times for Element 23
Vanadium, the 23rd element on the periodic table, is a metal you're going to be hearing more about in the years ahead, because without it we don't get the redox flow batteries that will allow large-scale storage of renewable energy. We also think you're likely to be hearing a lot more about Australian Vanadium (ASX: AVL) as it moves forward with its Australian Vanadium project in Western Australia, one of the most advanced vanadium projects in the world.
Click here to read the previous edition of Resources Stocks Down Under published 17 March 2022
For in-depth research reports or to keep up-to-date on the latest Stocks Down Under news see our parent company, Pitt Street Research, or follow us on Facebook and Twitter.