Resources Stocks Down Under 27 October 2022: Alara Resources (ASX:AUQ)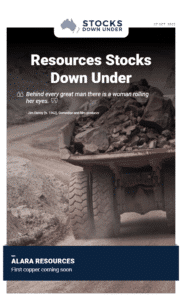 Alara Resources: First copper coming soon
You wouldn't know from the current share price that Alara Resources is about to bring its first mine into production. 3.9 cents per share on 26 October 2022 values Alara at a mere A$25.6m. That's tiny given that Alara's company maker, the Washihi-Mazzaza Copper-Gold Mine in Oman, is expected to commission before FY23 is out. And tiny considering there's potential upside from other mining projects the company can pursue in the Middle East.
Click here to read the previous edition of Resources Stocks Down Under published 20 October 2022.
For in-depth research reports or to keep up-to-date on the latest Stocks Down Under news see our parent company, Pitt Street Research, or follow us on Facebook and Twitter.