Resources Stocks Down Under 5 May 2022: Devex Resources (ASX:DEV)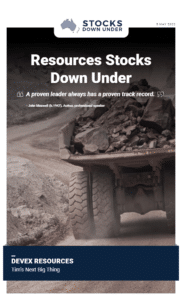 Devex Resources: Tim's next big thing
In the Australian resources sector, when Tim Goyder speaks, people listen. Two companies he has chaired, Chalice (ASX: CHN) and Liontown (ASX: LTR), have turned millions into billions in recent years after successful discoveries. Many are wondering if Devex Resources, of which Goyder owns 17.5% could be next and arguably that's why the company's shares have gone from 29 cents to 50 cents since we last covered it in mid-July last year. Devex does have a Nickel-Cobalt-PGE project near Chalice's Julimar discovery but, Devex is still getting the lay of the land with ground electromagnetic surveys. But it's up in the Northern Territory where Devex may have a company maker in its Nabarlek Uranium Project.
Click here to read the previous edition of Resources Stocks Down Under published 28 April 2022
For in-depth research reports or to keep up-to-date on the latest Stocks Down Under news see our parent company, Pitt Street Research, or follow us on Facebook and Twitter.