Small Cap Stocks Down Under 20 May 2022: Clime Investment Management (ASX:CIW)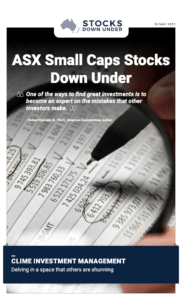 Clime Investment Management: Delving in a space that others are shunning
The money management space on the ASX has been through difficult times. Industry giants Magellan (ASX: MFG) and Pinnacle (ASX: PNI) are both down over 50% from 12-month highs and their portfolios have taken a hit from the recent sell off. But the share price of Clime Investment Management (ASX: CIW) has been relatively robust in recent months and it is for good reason.
Click here to read the previous edition of Small Cap Stocks Down Under published 13 May 2022.
For in-depth research reports on ASX-listed stocks, check out our parent company, Pitt Street Research, or follow us on Facebook and Twitter.