Small Cap Stocks Down Under 29 April 2022: Duratec (ASX:DUR)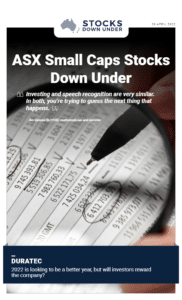 Duratec: 2022 is looking to be a better year, but will investors reward the company?
Duratec (ASX: DUR) is an industrial company that repairs and maintains steel and concrete infrastructure. It services a number of industries in the private sector, including mining, energy and utilities as well as Australia's defence sector, but the bulk of its business is on the West Coast. The company listed 18 months ago and has had a tough start to listed life but the company says the worst of the challenges (namely wage pressures and supply chain disruptions) are behind it, but only its FY22 results will tell.
Click here to read the previous edition of Small Cap Stocks Down Under published 22 April 2022.
For in-depth research reports on ASX-listed stocks, check out our parent company, Pitt Street Research, or follow us on Facebook and Twitter.