ASX Top 200 Stocks Down Under 7 June 2021: Sydney Airport Holdings, Ramsay Health Care, Kirkland Lake Gold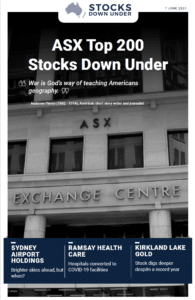 Sydney Airport Holdings: Brighter skies ahead, but when?
In today's edition of ASX Top 200 Stocks Down Under, when we wrote about Sydney Airport on 23 March 2020, at the absolute bottom of the Corona Crash, the pandemic was in its early stages and the friendly skies were a nice, quiet place to be if you were a bird. A little over a year later, air traffic has gradually picked up, but the runway for returning to normal volumes remains long. Although plenty of challenges and uncertainty remain, we think the stock can continue to climb higher as lifted restrictions pave the way for pent-up leisure and business travel demand.
Also in today's edition, a look at private health insurance issuer Ramsay Health Care (ASX: RHC) and gold miner Kirkland Lake Gold (ASX: KLA).
Click here to read the previous edition of ASX Top 200 Stocks Down Under published 31 May 2021
For in-depth research reports or to keep up-to-date on the latest Stocks Down Under news see our parent company, Pitt Street Research, or follow us on Facebook and Twitter.