Stocks Down Under 11 August 2020: TPG Telecom, Centuria Office REIT Mach7 Technologies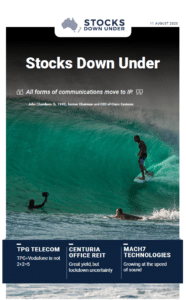 TPG Telecom: TPG+Vodafone is not 2+2=5
TPG Telecom completed its merger with Vodafone Hutchison Australia in late June. TPG, as of January 2020, had approx. 17% and 25% of Australia's mobile network and fixed-line broadband market share, respectively. The Vodafone merger was designed to strengthen this, allowing a better response to the behemoth that is Telstra. Also, there were believed to be strong synergies between the two businesses that can be realised over the next couple of years. Given the competitive environment, we're not so sure.
Also in today's edition, a look at commercial property play Centuria Office REIT (ASX:COF) and medical imaging data specialist Mach7 Technologies (ASX:M7T).
Get access to all editions with a 2-week FREE TRIAL. No charge on sign up.