ASX Top 200 Stocks Down Under 4 January 2021: Virgin Money UK Plc, Deterra Royalties, Silver Lake Resources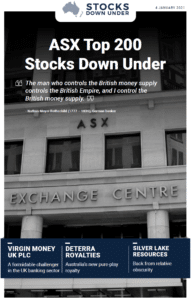 Virgin Money UK Plc: A formidable challenger in the UK banking sector
In today's edition of ASX Top 200 Stocks Down Under, headquartered in Glasgow, Virgin Money UK plc is not your grandparents' banking group. The company offers a wide range of innovative banking and non-banking services that cater to its customers' appetite for convenience. As it transforms into a full capacity digital bank, the group is expected to have new growth opportunities in the post-pandemic world. Virgin Money UK is a fundamentally strong challenger bank that is making waves in a UK financial sector that has been dominated by big players like HSBC, Barclays and Lloyds. We like the company's financial strength and the value of the Virgin Money brand. Despite near-term COVID-19 pressures, the group is well-positioned to benefit from a recovery in economic activity and capture share from traditional banks through its disruptive offerings.
Also in today's edition, a look at mining royalty company Deterra Royalty (ASX: DRR) and gold miner Silver Lake Resources (ASX: SLR).
Get access to all editions through a 30-day FREE TRIAL. No credit card required and the trial expires automatically.
Click here to read the previous edition of ASX Top 200 Stocks Down Under published 21 December 2020
For in-depth research reports or to keep up-to-date on the latest Stocks Down Under news see our parent company, Pitt Street Research, or follow us on Facebook and Twitter