Resources Stocks Down Under 1 April 2021: Vital Metals, Xanadu Mines, RareX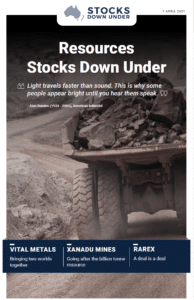 Vital Metals: Bringing two worlds together
In today's edition of Resources Stocks Down Under, Vital Metals is about to set a landmark in Canada's economic history as the first rare earths producer in that country. Having spent the opening months of 2021 organising the start of pit mining, infill drilling, ore sorting and processing, and bulk samples for offtake agreements, the company is set to start first processing in the second quarter. But there's been a lot of build-up to this point. With significant community support behind the Nechalacho Rare Earth Project, the impetus now will be to secure enough funds to grow the project and add to the growing rare earth chain.
Also in today's edition, a look at copper-gold miner Xanadu Mines (ASX: XAM) and Rare Earths miner RareX (ASX: REE).
Click here to read the previous edition of Resources Stocks Down Under published 25 March 2021
For in-depth research reports or to keep up-to-date on the latest Stocks Down Under news see our parent company, Pitt Street Research, or follow us on Facebook and Twitter.