Resources Stocks Down Under 21 January 2021: Vulcan Energy Resources, Flinders Mines, KGL Resources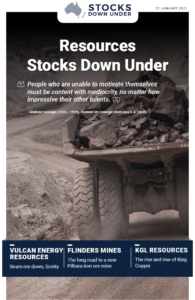 Vulcan Energy Resources: One for the vampires
In today's edition of Resources Stocks Down Under, Back on 30 March 2020, Vulcan Energy Resources, the Perth-based developer of a lithium project in Germany, was changing hands at just 15.5 cents per share. This one gradually increased in popularity through the remainder of 2020, so that by November it was over $2.00. Then on 15 January 2021, the stock went, to use the vernacular, 'nuts.' We think that maybe that's a little too enthusiastic.
Also in today's edition, a look at iron ore miner Flinders Mines (ASX: FMS) and copper miner KGL Resources (ASX: KGL).
Get access to all editions through a 30-day FREE TRIAL. No credit card required and the trial expires automatically.
Click here to read the previous edition of Resources Stocks Down Under published 14 January 2021
For in-depth research reports or to keep up-to-date on the latest Stocks Down Under news see our parent company, Pitt Street Research, or follow us on Facebook and Twitter