Vehicle fleet leasing and fleet management company
The Eclipx Group (ASX:ECX) operates across Australia and New Zealand providing fleet management through its three core brands, i.e. FleetPartners/ FleetPlus, FleetChoice and AutoSelect. This company was not hit hard by COVID-19 corporate spending pullbacks and in FY20 still managed to produce a year-over-year growth in EBITDA.
A major restructuring now complete
Eclipx had struggled in recent years under the burden of a significant amount of debt and an overly complicated business. Recognising the trouble the company was in, management began its "Simplification Plan" back in May 2019. The plan was completed during August 2020, a full 13-months ahead of schedule. When all was said and done the company had divested six of its nine businesses and cut its debt burden in half.
A solid 2020 result
In the year to September 2020 Exclipx grew core EBITDA by 4%, to $85m, a reflection of the defensive nature of fleet management and novated leasing. However, Assets Under Management of Finance (AOMOF) came down 4%, since Eclipx wasn't able to write as much new business as a result of the pandemic.
Why we like it
Now that Eclipx's restructuring is over the company can benefit from a return to normal growth in the Australian economy. Consensus forecasts are suggesting a 15% growth in EBITDA in the year to September 2021.
There is potential for earnings upgrades
At the moment of inclusion in Marc &Stuart's Top Picks, Eclipx was trading on an EV/EBITDA multiple for the September 2021 year of 21.5x and a P/E of 11.8x, which we believe is justified given the company's earnings growth rate. Additionally, the economy is recovering faster than expected, with implications for business spending and increased hiring. Given management's track record of beating internal targets during the turnaround, we think there is upside to the current consensus forecasts, which would drive the share price.
Technical Analysis
The trendline drawn on the chart has proven itself to be very valid as it has supported the price several times. We expect it to continue to do so. It has a modest slope and can gradually drive the price higher. Therefore, prices very near or on the trendline are good buy opportunities.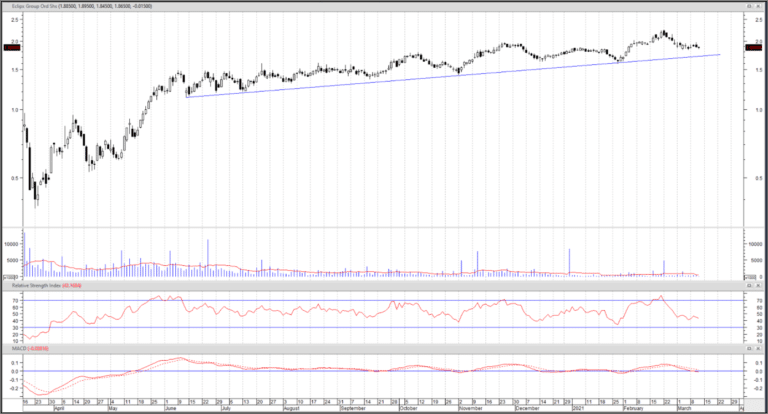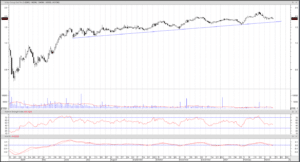 Read the most recent article on ECX here