ASX Top 200 Stocks Down Under 17 May 2021: BHP Group, Rio Tinto, Fisher & Paykel Healthcare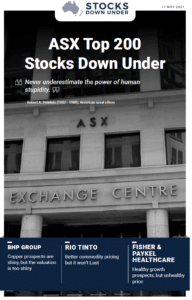 BHP Group: Copper prospects are shiny, but the valuation is too shiny
In today's edition of ASX Top 200 Stocks Down Under, it's been over a year (18 December 2019) since we last wrote about Melbourne-based BHP Group and much has changed in the mining industry. Production halts and demand weakness has given way to increased production and optimism towards an economic rebirth. With commodity prices now on the rise, BHP is well positioned to benefit from a more robust trading environment. However, with the share price at its highest level in 10 years and the valuation stretched, we prefer to dig for value elsewhere.
Also in today's edition, a look at mining giant Rio Tinto (ASX: RIO) and healthcare product developer Fisher & Paykel Healthcare (ASX: FPH).
Click here to read the previous edition of ASX Top 200 Stocks Down Under published 10 May 2021
For in-depth research reports or to keep up-to-date on the latest Stocks Down Under news see our parent company, Pitt Street Research, or follow us on Facebook and Twitter.