Stocks Down Under 26 June 2020: Crown Resorts, Temple and Webster, Silver Mines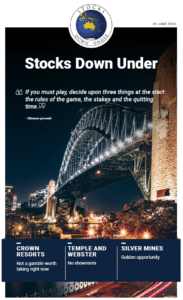 Crown Resorts: Not a gamble worth taking right now
Headquartered in Melbourne, Crown Resorts owns and operates some of Australia's largest gambling and entertainment venues, such as Crown Melbourne, Crown Perth and the new Crown Sydney in Barangaroo. The complexes include a range of hotels, casinos, restaurants, bars and shops. They appeal to both local and overseas customers due to their high-end nature and all-inclusive atmospheres. Crown's other key assets are the Crown London Aspinalls casino and its 50% ownership in online betting exchange Betfair Australasia. While the Barangaroo resort has the potential to drive market share gains over the long-term, a lack of international tourism along with increasing regulatory pressures suggest Crown is not worth the gamble here.
Also in today's edition, a look at Temple & Webster (ASX:TPW) and Silver Mines (ASX:SVL).
Don't miss out and get access to this report with a FREE 2-week trial (no charge on sign up).