Resources Stocks Down Under 5 August 2021: Cyprium Metals, Leigh Creek Energy, Mindax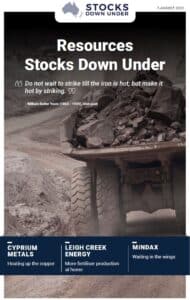 Cyprium Metals: Heating up the copper
In today's edition of Resources Stocks Down Under, Cyprium has a growing portfolio of near-term copper projects in the Murchison and Paterson districts, but we believe the recent acquisition of the mothballed Nifty Copper mine in the Pilbara has set the company on the fast track to the Big Time.
Also in today's edition, a look at low-cost urea fertiliser producer Leigh Creek Energy (ASX: LCK) and iron ore miner Mindax (ASX: MDX).
Click here to read the previous edition of Resources Stocks Down Under published 29 July 2021
For in-depth research reports or to keep up-to-date on the latest Stocks Down Under news see our parent company, Pitt Street Research, or follow us on Facebook and Twitter.