ASX Top 200 Stocks Down Under 1 March 2021: Liberty Financial Group, Cromwell Property Group, Contact Energy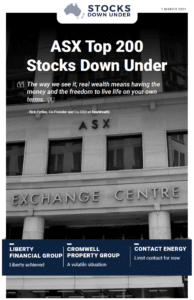 Liberty Financial Group: Liberty Achieved
In today's edition of ASX Top 200 Stocks Down Under, Liberty Financial Group offers home, car, personal, commercial and business loans across Australia and New Zealand. Headquartered in Melbourne, Liberty was one of the many companies that took advantage of the high demand for equities after the Corona Crash and IPO-ed on the ASX on 15 December 2020. With an IPO price of $6, the company has done exceptionally well as it has since rallied 37%. The question is, can the rally continue?
Also in today's edition, a look at REIT Cromwell Property Group (ASX: CMW) and New Zealand electricity producer Contact Energy (ASX: CEN).
Click here to read the previous edition of ASX Top 200 Stocks Down Under published 22 February 2021
For in-depth research reports or to keep up-to-date on the latest Stocks Down Under news see our parent company, Pitt Street Research, or follow us on Facebook and Twitter.