Emerging Stocks Down Under 2 March 2021: Silex Systems, Reckon, Adalta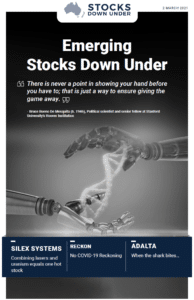 Silex Systems: Combining lasers and uranium equals one hot stock
In today's edition of Emerging Stocks Down Under, headquartered in New South Wales' Lucas Heights Science and Technology Centre is a company working on commercialising an innovative laser enrichment technology. This technology works around the SILEX laser and is owned by the aptly named Silex Systems. While the company is looking to broaden its laser technology applications, the real story here is its ability to enrich uranium. With the uranium supply glut finally close to depleted, we think Silex's laser is prepared to enrich more than just uranium.
Also in today's edition, a look at business solutions and practice management software developer Reckon (ASX: RKN) and drug developer Adalta (ASX: 1AD).
Click here to read the previous edition of Emerging Stocks Down Under published 23 February 2021
For in-depth research reports or to keep up-to-date on the latest Stocks Down Under news see our parent company, Pitt Street Research, or follow us on Facebook and Twitter.