Emerging Stocks Down Under 6 April 2021: Creso Pharma, IkeGPS Group, AVA Risk Group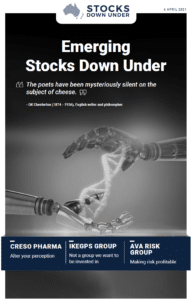 Creso Pharma: Alter your perception
In today's edition of Emerging Stocks Down Under, as the first medicinal cannabis company to import medicinal cannabis into Australia, Creso Pharma is using its position in cannabis-friendly Canada to unlock new distribution opportunities for its growing range of CBDbased products. In its quest to remove the stigma from alternative therapies, the company is now targeting psychedelic therapies to address the widening mental health gap. Although investors seemed lukewarm to the new direction, Creso is confident further evidence-based research and development in psychedelic medicine will lead to better products, better health outcomes and an end to outdated policies.
Also in today's edition, a look at cloud-based utility technology developer IkeGPS (ASX: IKE) and all-encompassing risk protection group the AVA Risk Group (ASX: AVA).
Click here to read the previous edition of Emerging Stocks Down Under published 30 March 2021
For in-depth research reports or to keep up-to-date on the latest Stocks Down Under news see our parent company, Pitt Street Research, or follow us on Facebook and Twitter.