Emerging Stocks Down Under 1 February 2022: Li-S Energy, Touch Ventures, Prophecy International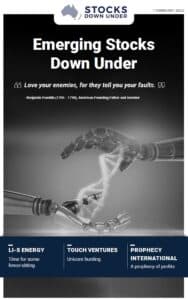 Li-S Energy: Time for some fence-sitting
In today's edition of Emerging Stocks Down Under, Brisbane-based lithium-sulphur battery technology developer Li-S Energy might have only listed on the ASX on 28 September 2021, but the team at Stocks Down Under knows the company quite well. In fact, just one month after the company listed, we published an interview with Li-S Energy's CEO, Dr Lee Finniear. As regular readers of Stocks Down Under will know, we cover many companies that develop new technologies to drive the current energy transition. Li-S Energy is no exception and its lithium-sulphur battery technology is nothing short of revolutionary, in our view. However, since listing at $0.85 per share, the stock price has exploded like a battery in a microwave. So, while we love Li-S Energy's management and technology, we need to take a hard look at the current valuation to see if this hot stock needs to cool off.
Also in today's edition, a look at venture capital investor Touch Ventures (ASX: TVL) and software developer Prophecy International (ASX: PRO).
Click here to read the previous edition of Emerging Stocks Down Under published 25 January 2022
For in-depth research reports or to keep up-to-date on the latest Stocks Down Under news see our parent company, Pitt Street Research, or follow us on Facebook and Twitter.