Small Cap Stocks Down Under 11 June 2021: Lynch Group, Sports Entertainment Group, XRF Scientific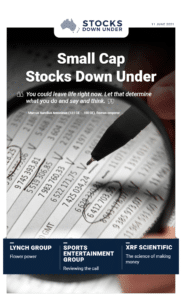 Lynch Group: Flower Power
In today's edition of Small Cap Stocks Down Under, how does one make an empire from selling products that are lucky to last more than a couple weeks? Leo Lynch could tell you. His family had been in the flower game as a grower and wholesaler since 1915, but a century later sold majority ownership to private equity firm Next Capital. Lynch Group went public on ASX this year and is the only player of a national scale in Australia today as well as a leading grower with an emerging wholesale platform in China.
Also in today's edition, a look at sports entertainment network conglomerate the Sports Entertainment Group (ASX: SEG) and laboratory product developer XRF Scientific (ASX: XRF).
Click here to read the previous edition of Small Cap Stocks Down Under published 4 June 2021
For in-depth research reports or to keep up-to-date on the latest Stocks Down Under news see our parent company, Pitt Street Research, or follow us on Facebook and Twitter.