Property Stocks Down Under 13 April 2022: Lifestyle Communities (ASX:LIC)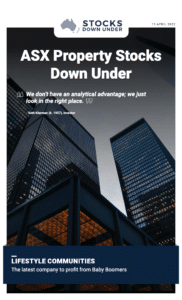 Lifestyle Communities: The latest company to profit from the Baby Boomers
Lifestyle Communities (ASX: LIC) is one of the few property stocks that operate retirement facilities. But as the company's name suggests, they're all about the lifestyles. The communities, which are all in Victoria, are aimed at over 55s who are retired or semi-retired and offer low maintenance living with resort-style facilities. Instead of selling parcels of land and moving on, the company only sells the house and offers long term leases on the land. It has 2,958 homes under management. Despite the company's mixed fortunes in the last couple of years, it has gained 46% since late 2020 and now that the worst of COVID-19 is behind the company, we think it can grow further from here so long as some of the issues that have hit its competitors do not affect LIC.
Click here to read the previous edition of Emerging Stocks Down Under published 6 April 2022.
For in-depth research reports or to keep up-to-date on the latest Stocks Down Under news see our parent company, Pitt Street Research, or follow us on Facebook and Twitter.