Property Stocks Down Under 6 April 2022: GPT Group (ASX:GPT)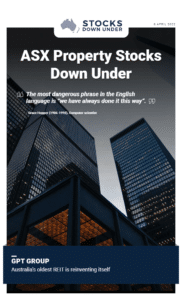 GPT Group: Australia's oldest REIT is reinventing itself
GPT Group (ASX: GPT) was the ASX's first ever property trust when it was listed in 1971. It has a diversified portfolio consisting of retail, office and logistics assets. It is increasing its logistics portfolio but its retail and office assets have continued to lag, relative to the assets of many of its peers. We like that the company is a reliable dividend payer, but we would rather companies that are already in the logistics space.
Click here to read the previous edition of Emerging Stocks Down Under published 30 March 2022.
For in-depth research reports or to keep up-to-date on the latest Stocks Down Under news see our parent company, Pitt Street Research, or follow us on Facebook and Twitter.